Mission Supports Program Information
Mission Supports Program
Transitional Case Management - Homelessness and I/DD
CFPD's Mission Supports Program provides transitional case management services to people with intellectual/developmental disabilities (I/DD) who are homeless or at-risk of homelessness in Denver County. Eligible participants are connected with either a Supported Living Services Waiver (SLS Waiver) or I/DD Long-Term Medicaid Supports (DD-Waiver) through Rocky Mountain Human Services (RMHS). 
Many who are qualified for this program may not know it exists, and/or may not self-identify as having an I/DD. It's open to qualified candidates who, prior to age 22:
May have been in Special Education classes at any grade level
Have been diagnosed with an Autism Spectrum Disorder, Down Syndrome, Fragile X, Fetal Alcohol Disorder, Epilepsy, Cerebral Palsy or Developmental Delay
Were ever hospitalized for brain injury, epilepsy, or other childhood disorder or extended sickness
Those who qualify will be connected to services through RMHS which could include:
Supportive Housing
Community Support and Mentoring
Assistance with Medical Needs
Case Management/Permanent Services Coordinator
Vocational Support
Day Program Services
CFPD can also refer individuals with I/DD who live in Denver County to help in applying for disability income benefits, like Supplemental Security Income (SSI) or Social Security Disability Insurance (SSDI), as well as help applying for or being assessed for Medicaid services. 
If You or Someone You Know Would Like to Learn More...
Click Here to jump to a Mission Supports inquiry form and get in touch with us.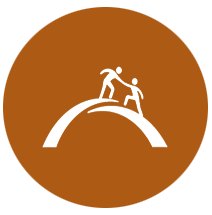 Call Our Intake Line Today at (720) 772-5725