Blog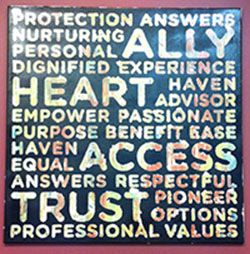 Creative Job Readiness Training = Unique Corporate Art
We really weren't sure what to expect when we commissioned several pieces of "corporate" art for CFPD. While everyone wants to beautify their office space, choices can be hard – tastes differ, of course, and the resulting picks end up rather bland, matching the walls and furniture instead of anyone's personal taste.
So, when our corporate art showed up and stunned everyone in our office, we were more than a little surprised. And very, very happy.
Our pieces were designed and produced by artists at VSA Gallery, a nonprofit enterprise that, unexpectedly, is in business to teach transitioning kids who are affected by disability the skills they'll need to be job-ready. They do it through art.
"Over 70% of people with disabilities are unemployed," says VSA Executive Director Damon McLeese, and most of the young people who come to the program won't get "traditional" teen jobs. "And while they get great support in High School, they're often not prepared" for the world of work. One huge element gets lost in school for most kids with disabilities: collaboration. They're typically working one-on-one with aides, says McLeese, which can keep them from developing the group skills necessary for paid work.
VSA brings youth together in the art studio with the express purpose of collaboration. Led by a professional artist-in-residence, teams of young people work to translate business materials – everything from brochures to mission statements to interviews with staff – into unique, compelling art.
"We work from your corporate identity," says McLeese. "Your colors, your styles, your message." The results are one-of-a-kind, and they bring a soulfulness that no marketing collateral can. "Most of the pieces turn out to be a form of word art," he says, whether it's painted, a photo mosaic, collage or another style altogether.
And they do it pretty quickly – showing up on time and keeping to deadlines are important work skills. "We're pretty agile," McLeese says, with VSA often turning around commissioned work within weeks.  This includes staffing up when new orders come in. "The more organizations we can serve, the more people we can hire."
Their art hangs in offices around Colorado, but they still have plenty to show:  VSA Gallery has running exhibits, including their present showing, "IN/Finite EARTH," running through June 6 in Denver's  Santa Fe Art District. See more of their work – and their work process – on their Facebook page. And once you're impressed, visit their website to get them started on your own project.
If I Only Had a Crystal Ball
By Megan Brand, Executive Director of CFPD
In my own life and in my work with people with disabilities, I often wish l had access to a crystal ball. Wouldn't it be nice to be able to see into the future and see where we will be living, working, who our supports will be and what the economy and government will look like? For people with disabilities, this is an even greater desire. What will future supports and services for people with disabilities look like? Will my son or daughter live independently, with a friend or family member or in a group home? Will my son or daughter work? Will I need to supplement their ongoing support and medical care/treatment?
 
Since we don't have a crystal ball, the only thing we can rely on is planning. Our planning has to be based on what we know now with our best guess for what the future will bring.
 
One thing I have learned in my time at the CFPD is that Trust funds enhance the quality of life for people with disabilities. They also offer a tool for protecting assets in regard to financial exploitation, and by maintaining eligibility for governmental programs. In fact, Trusts are one of the best ways we can plan for people with disabilities. Parents can be reassured that their son or daughter will continue to receive enhancements in their everyday life. Some examples of how Trusts can be used to enhance quality of life are supplemental medical and treatment services, equipment, computers, phone service, vacation, clothing, etc. The list is quite extensive.
 
Finding a knowledgeable Trustee is a large component of future planning. It is important that the Trustee knows the rules and regulations of Trusts, government benefits and other resources. But most importantly, it is important that the Trustee know your son or daughter. They need to balance your wishes with the current needs of your son or daughter.
 
CFPD offers the best of both worlds. We have experience in managing Supplemental (Special) needs Trusts as well as working with people with disabilities. CFPD is a non-profit organization that offers Trust management services for both first (money belonging to the person with a disability) and third party (money belonging to another, typically a parent or grandparent) Trusts. Our board and staff have years of experience and strong connections in the community to assist clients in developing a comprehensive plan for the present and future, while protecting important government benefits.
 
Please give me a call at 303-733-2867 or check out our website at www.cfpdtrust.org. I'd be happy to meet with you and your family to discuss the many services of CFPD.
Reasons to use a corporate fiduciary
A corporate fiduciary can facilitate the investments of a Trust, pay the bills of a Beneficiary on an on-going basis, provide accurate recordkeeping, file applicable court documents and have a knowledge of other community based organizations that can drastically enhance the quality of life of their beneficiaries.
Years of experience.
In almost every case, a corporate fiduciary will not only have multiple years of experience in Trust administration, but often times also have a variety of different Trust officers of varying years of experience and expertise in all different types of Trusts. 
In addition to the years of experience in Trust administration, a corporate fiduciary will have the savvy and know-how to deal with difficult family and Beneficiary issues.
The typical corporate fiduciary will take a long term investment approach providing protection to market downside as well as providing a growth component for remaindermen and inflation concerns.  As corporate fiduciaries are not 'wheeler-dealers', you can be assured that they will take into account all aspects of the Beneficiary's life plan, tailor-fitting investments for income and growth as the Beneficiary's life and needs change. 
Lastly, our research shows that the typical investment manager in the Denver metro area charges 1-1.5% to professionally manage portfolios.  With a typical fee of 1-1.2%, you actually save money by hiring the professional money managers of corporate fiduciaries, while gaining access to their wealth planning capabilities and Trust administration expertise.
Asset protection. 
Most corporate fiduciaries are governed by State or Federal Regulators (Office of the Comptroller of the Currency, or 'OCC').  Personal fiduciaries are not held to as high as standard as these government oversight agencies, meaning you have the peace of mind that not only is your Trust reviewed by a professional Trustee, it is also audited and held to the high standards of the OCC, thus negating most of the risk of fraud or mismanagement on the part of the Trustee.
Objectivity. 
In too many cases, family members are estranged from one another once money is involved.  Who would ever want to come hat-in-hand to their brother or sister asking for money from their Trust? 
A corporate fiduciary has no such family ties and is only interested in carrying out the wishes of the settlor or grantor of the Trust while protecting the Trust from creditors or preserving the benefits of the beneficiaries. 
Corporate fiduciaries have 'big shoulders' and have no issue with saying 'no' to a Beneficiary when it's in the Beneficiary's best interest, which is much more difficult when you're related to the Beneficiary.
Trusted advisor. 
A professional Trustee will look at all aspects of the life of the settlor or Beneficiary in order to determine the most prudent course of action.  Market conditions, tax law, retirement and estate planning change every day and your professional fiduciary will keep you and your beneficiaries abreast of such changes and how it affects you or your Trust.  Being that this is all that professional Trustees do everyday, they are able to zero in and focus on relevant issues while not letting them slip between the cracks.
Safety. 
In addition to State and Federal regulators, professional fiduciaries are required to carry hefty errors and omissions insurance; personal Trustees are not.  In the event that the professional Trustee should make an error, your Trust would be reimbursed in full in most cases.