News
CFPD Board Member Named NAELA President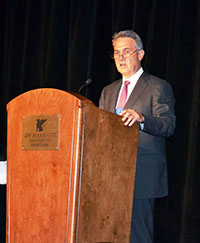 Our own CFPD Board Vice President was recognized as a nationwide leader among his peers last week as he accepted the Presidency of the National Academy of Elder Law Attorneys (NAELA).
Bradley J. Frigon's expertise has been long in the making. He originally hails from Kansas where he began practicing in the family business with his father, a well-known estate planning attorney, and his brother. He joined NAELA in 1997 and has been part of the organization's leadership for several years, earning positions as Secretary, Treasurer and Vice President before heading up the group.
His team's priorities for NAELA, representing over 4,300 members and 26 statewide chapters, include implementing a new educational plan with more online programming and immediate, 24-7 access to member information. Through NAELA's already-rich website, they hope to promote the exceptional value members have with even more offerings, emphasizing practical day-to-day information for practitioners.
As an organization, NAELA has the tough task of backing and representing state chapters when state statutes and priorities vary widely. They rally consultants in Washington, DC to assure representation in our legislature, take the lead on national initiatives that affect all members (like recent work on the Disabled Child Miilitary Protection Act and the Special Needs Trust Fairness Act), and even provide funding for litigation critical to elder and disability law precedents.
Read more about Brad and his co-Board members on the CFPD website.
If you want to be in the know about what's going on at our organization, you've come to the right place. Be sure to check back regularly to get our latest news updates.
Affordable Care ActThe Impact on Special Needs Trusts
On March 23, 2010, President Obama signed the Affordable Care Act (ACA). The law puts in place comprehensive health insurance reforms that will roll out over four years and beyond.
The ACA removes lifetime limits on health benefits and creates new coverage options for individuals with pre-existing conditions.
Colorado later approved Medicaid Expansion for individuals under 65 years of age with income below 133 percent of the federal poverty level (Approximately $15,000 for an individual), which began January 2014. There is currently no asset test for this program.
What is NOT changing with the implementation of the ACA? (Why a Trust is still needed)
The Medicaid Waiver Program will remain the only real benefit program that will cover significant custodial home care services for people with disabilities.
Long-term care in Assisted Living Facilities and Nursing Facilities will still be paid by Medicaid when an individual does not have Long-Term Care Insurance, or income/resources to privately pay.
Supplemental Security Income (SSI) will continue to have a resource limit of $2,000 for individuals.
When a Trust May Not Be Needed
When an individual who meets the income requirements for Medicaid Expansion and does NOT need Long-Term Care or a Waiver program receives a windfall (PI Settlement, Back-payment in SSA, Inheritance), as there is no asset test for the Medicaid Expansion Service.
Individuals need to evaluate their eligibility for other programs such as LEAP, Food Stamps, etc.
Individuals need to evaluate the other benefits of placing funds in a Special Needs Trust, like:
- Budgeting – CFPD provides a plan for spending or saving to reflect your goals
- Protection from exploitation.
- CFPD provides a link to a network of community partners and resources.
So what are my next steps?
Consult with an attorney who is well-versed in the Affordable Care Act.
Call CFPD to discuss your individual situation. Our staff have been trained in the ACA and follow the implementation of new services and the impact of SNTs.